Ingredients
1 kilo of pork loin head steak cut in half
5 pieces of dry guajillo chili pepper, deveined and clean, powdered (for the marinade)
1/2 cup of achiote paste (for the marinade)
1/4 cup of vinegar (for the marinade)
3 tablespoons of sour orange juice (for the marinade)
1 teaspoon of garlic powder (for the marinade)
1 pinch of pepper (for the marinade)
1 pinch of dried oregano (for the marinade)
3 pinches of salt (for the marinade)
1 package of smoked bacon (200 g)
1 piece of pineapple peeled and heartless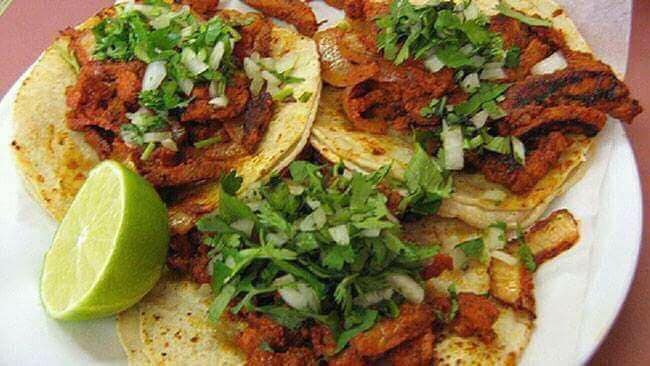 Directions:
-Preheat the oven to 190°C.
-Mix all the marinade ingredients and add to the meat. Marina for 20 minutes.
-In an oven tray, place the meat one on top of the other to simulate the top. Between layers place 3 to 4 strips of bacon depending on the size. Repeat until you finish all the meat.
-Insert a thick wooden stick in the center to support the meat. Booking.
-Cut a thick cube out of the pineapple and insert it all the way to the top of the wooden stick for support. Cut the rest of the pineapple into thin slices. Booking.
-Bake the meat top and flip constantly so that the cooking is even. Once it is cooked, remove it and let it rest for a few minutes.
-Serve and accompany with corn tortillas, sauces and pineapple.