Tacos de canasta
Ingredients:
12 Servings
Vegetable oil, for frying
½-inch slice of white onion
3 cloves garlic
12 corn tortillas
½ cup finely sliced scallions, or cebollitas de cambray in Mexico
1 jalapeno chile, seeded and finely chopped, more or less to taste
1 pound Roma tomatoes, chopped
½ tsp kosher or coarse sea salt, or to taste
½ cup chopped cilantro or epazote
1 pound (about 2 ½ cups) requesón or farmer's cheese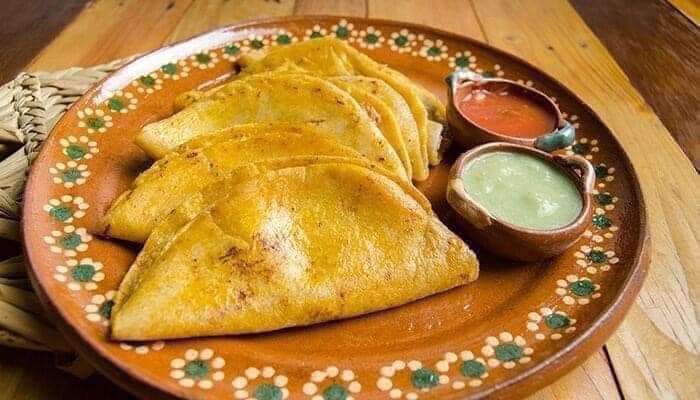 Directions:
Step 1/6
Cover a basket's interior with big, thick layers of plastic wrap (make sure they are big enough to fold over the top). Then, place a couple of kitchen towels over the plastic, and finally, top everything with parchment paper.Step 2/6
Cover the bottom of a saucepan with ½ an inch of oil and heat it over a medium flame. Add the onion and the garlic, then cook for at least 10 minutes, until they brown.Step 3/6
Fry each tortilla in hot oil for 3 seconds per side, then leave them to cool on a cooling rack or paper towel-lined plate.Step 4/6
Add 3 tablespoons of the onion and garlic-flavored oil into another pan. Cook the scallions for approximately 3 or 4 minutes in hot oil, until soft. Next, add the tomatoes and the salt, then cook for 8-10 minutes, until squashy. Mix in the cilantro or epazote, cook for 2 more minutes, then remove from the heat. Combine the requesón with the tomato blend in a bowl. Season with some more salt, if needed.Step 5/6
Add a few spoons of the filling onto the fried tortilla, then fold it into the shape of a half-moon. Cook the assembled tortillas in a preheated skillet for about a minute on each side. Repeat the process with all of the tortillas.Step 6/6
Layer the tortillas in the basket, covering them with some parchment paper and a kitchen towel. Finally, cover the towel with the plastic wrap left from lining the inside of the basket. Let the tortillas sit for at least 10 minutes. Keep covered until serving.