Roast tacos
Ingredients:
2 pounds of beef trimmed of excess fat
1 cup pickled jalapeños, including the carrot and onion
Olive oil to brush on the grill
16 small corn tortillas
1 medium white onion chopped
2 lemons cut into wedges to serve
1 tbsp salt
1/4 cup of tree sauce
1 tbsp freshly ground pepper
1/2 cup chopped cilantro
*Tree sauce
1 chile de árbol stemmed and seeded
1/2 medium size white onion chopped
1 15-ounce can diced tomatoes
1 garlic clove finely minced
1 tsp dried oregano
1 teaspoon of salt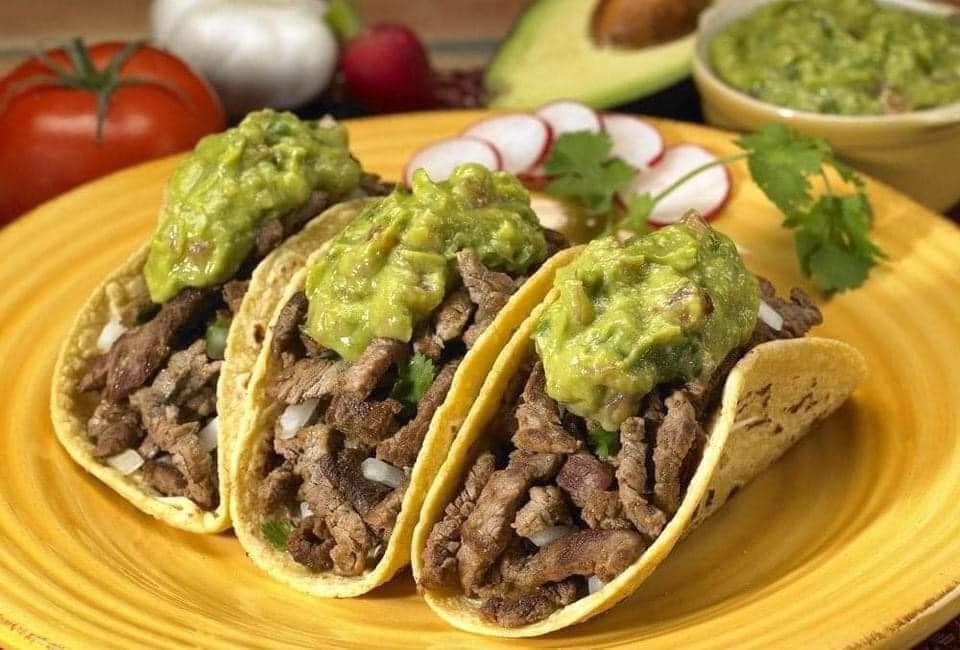 Directions:
Lay beef out on a flat surface, brush with jalapeno mixture, then wrap tightly in cellophane and refrigerate 8 hours.
Reheat a gas or charcoal grill to medium heat. Using a small brush, lightly oil the surface of the grill to prevent the meat from sticking.
Unroll meat and skim off jalapeño mixture. Season it with salt and pepper on both sides. Flipping once, grill for 7 to 10 minutes on each side until medium cooked.
Remove and place on a cutting surface, letting it rest for 5 minutes to allow the juices to settle.
Then cut with the grain into 1/4-inch-wide pieces.
Heat a large skillet over medium heat.
Heat tortillas 30 seconds on each side.
To make the tacos, combine 2 warm tortillas, place about 4 ounces of meat in the center, and sprinkle with some onion and cilantro.
Drizzle 1 and 1/2 teaspoons of the salsa de árbol over each taco and lime.