Plum and Nut Cake
Ingredients
300 grams of pitted black plum 
2 cups (tea) of sugar plus 2 spoons (soup) 
3 units of egg 
1 spoon (soup) of margarine 
1 cup (tea) of milk plus 4 spoons (soup) 
2 spoons (soup) of powdered chocolate 
1 cup (tea) of wheat flour 
1 tablespoon (soup) of chemical baking powder 
1 can of condensed milk 
50 grams of chopped walnuts 
300 grams of fresh cream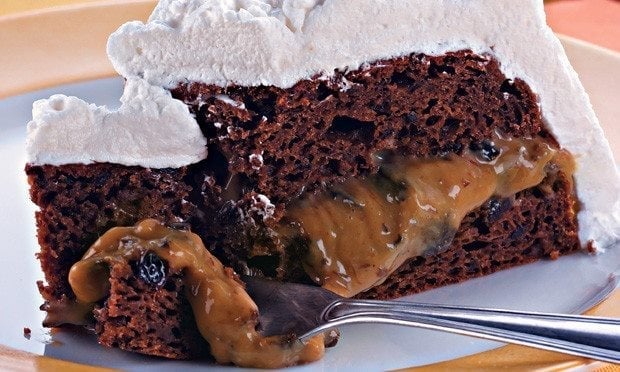 Directions:
In a blender, beat 200 g pitted plums, 2 cups (9tea) of sugar, eggs, margarine, 1 cup (tea) of milk and chocolate.
Transfer the mixture to a bowl, incorporate the wheat flour and baking powder.
Place in a round mold greased with margarine and bake in a preheated oven at 200ºC for 40 minutes.
Get it out of the oven, let it cool down and unmold it.
For the filling, in the pressure cooker, place the condensed milk can and cover with water.
Cook for 30 minutes after starting the pressure.
Turn off the heat and leave it in the pan until it cools down completely.
Finely chop the plum and cook with the rest of the milk until it is very soft.
Mix the dulce de leche, 100 g of prunes and the nuts.
To make the frosting, beat the cream with 2 tablespoons of sugar until it forms whipped cream.
Cut the cake in half, stuff and cover with the whipped cream.
Tip:
let the can of cooked condensed milk cool completely before opening.