Pave Of Pineapple
Ingredients:
1 liter of milk
1 can of condensed milk
3 sifted yolks
4 tablespoons cornstarch
50 g grated coconut for the cream
100 g grated coconut for topping
1 can of canned pineapple
1 small can of canned cherries
1 can of whey-free cold cream
3 egg whites whipped
4 tablespoons of sugar
300 g cornstarch/milk/champagne biscuits
2 cups of guarana to soak the cookies (American cup)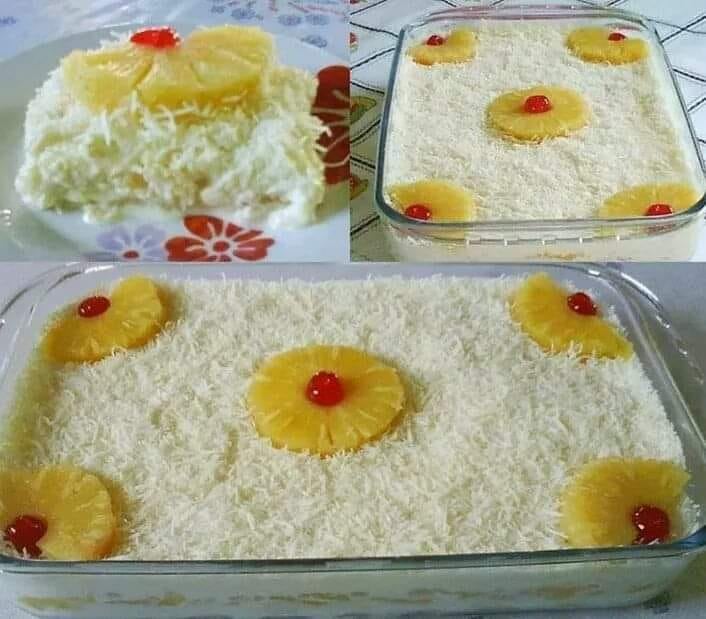 Directions:
Reserve 3 pineapple slices to decorate the pave, chop the rest of the pineapple into small pieces and set aside
In a pan with a thick bottom add the milk, condensed milk, egg yolks, starch and coconut, mix well
Bring to a low boil, stirring constantly with a wooden spoon, until it thickens and takes on a consistency.
Take a glass platter to mount the pavé, place the guarana in a bowl to soak the cookies, on the platter place a layer of dipped cookies in the guarana and one of the cream
Repeat the process until you finish with the last cream
Sprinkle the chopped pineapple on top and reserve, in the mixer beat the egg whites, then with the mixer still on add the sugar and beat until combined
Remove from the mixer and add the cream, stirring gently until well blended.
Pour the cream over the pineapple, sprinkle the grated coconut on top, refrigerate for 6 hours or overnight
Once chilled, garnish with the reserved pineapple slices and the cherry, cut 2 slices in half, then place each slice in a corner of the platter, place a cherry inside the slice
Place a whole slice in the center of the pave and a cherry inside, serve next.
Tip:
You can soak the cookies in the pineapple syrup.