Floating jelly, filled with your favorite cupcakes
Ingredients
1 cup evaporated milk
1 can of condensed milk
½ cup of half cream
4 tablespoons of hydrated and melted gelatin
250 grams of cream cheese
1 spoon of vanilla
5 cupcakes from the store (Gansitos)For the gelatin (cover)
1 envelope of flavored gelatin
3 cups of water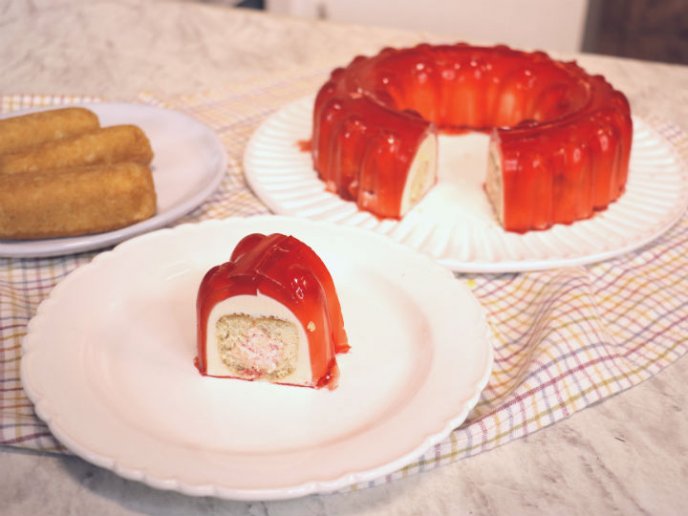 Directions:
Mix evaporated milk, condensed milk, cream cheese, vanilla, and media crema.
Add the liquid gelatin to the mixture.
Pour ½ of the milk gelatin mixture into a greased gelatin mold.
Cool 10 minutes and place the cupcakes on the gelatin.
Cover with the rest of the milk gelatin and let it set.
Prepare the flavored gelatin envelope with 3 cups of boiling water.
Take off the milk gelatin and see the flavored gelatin to cover it.
Refrigerate for a couple of hours.
Enjoy this delicious floating milk jelly, it is delicious!
Grades
Follow these simple tips to make the perfect milk jellies:If you want it to be even firmer, we recommend decreasing the volume of water or milk.
Before you pour a water or milk gelatin into the mold, make sure that the powder is completely dissolved.
To prevent bubbles from forming, place a spoon on the side of the mold and pour the liquid onto it.It is not recommended to freeze the gelatin so that it sets faster, because ice crystals can form in some spaces and the consistency will not be adequate.
In order for the gelatin to integrate evenly, check the production process carefully. If you need to heat the milk, add the gelatin when the milk is still hot. In case the milk does not heat up, we suggest you mix a little of it with the gelatin to temper it and thus distribute it evenly.If you want to make a mosaic or patterned gelatin where the base is milk and the decorations are colored gelatin, make sure that both preparations are at room temperature, otherwise the colored jellies will stain the milk gelatin and this will affect the presentation.