Christmas star jelly
Ingredients
1 package of strawberry gelatin
700 milliliters of water
1 packet of lemon gelatin
700 milliliters of water
1 package of cream cheese
1 can of condensed milk
1 can of evaporated milk
2 tablespoons of vanilla essence
½ liter of milk
5 tablespoons of gelatin
¾ cup cold water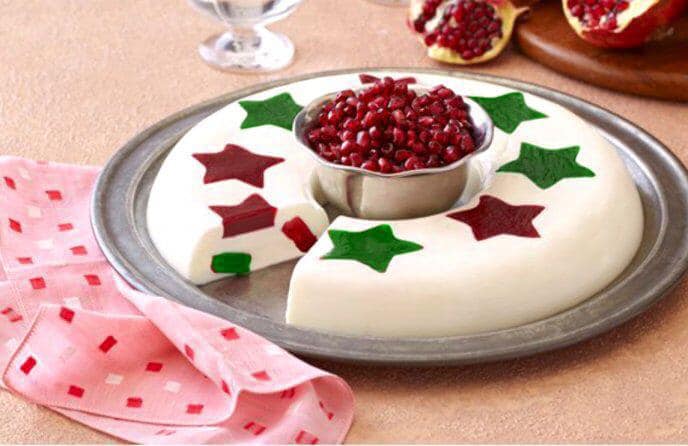 Directions:
Boil 700 milliliters of water, add the strawberry powder gelatin and stir until dissolved.
Grease a rectangular mold with vegetable oil and pour the preparation; refrigerate for at least two hours or until set.
Repeat the process with the lemon jelly.
Unmold both jellies and use a medium star-shaped cookie cutter to cut out the jellies.
Grease a jelly mold with a little vegetable oil, place some stars glued to the edges and reserve.
Hydrate the gelatin in cold water; let stand 10 minutes.
Heat the milk in a pot, without letting it boil. Add the cream cheese, evaporated milk, condensed milk and vanilla essence.
Add the hydrated gelatin and stir constantly until everything is well incorporated.
Remove from heat and cool completely at room temperature.
Pour the preparation into the mold over the stars; as you add the mixture add more stars.
Refrigerate the gelatin for at least four hours or until completely set.
Unmold carefully and serve.