Swiss Alps Cake with Strawberries
IngredientsDough
4 whole eggs, sifted
1 and 1/2 cup of sugar
1/2 cup of hot water
1 and 1/2 cup of sifted wheat flour
3/4 cup sifted cornstarch
1/4 cup corn oil or melted butter
1 pinch of salt
1 tablespoon powdered baking powder
Stuffing 1 -
White Mousse
300g of fresh cream, whipped into whipped cream with 1 tablespoon of sugar and vanilla essence (I used 1 box of ready-made whipped cream, without adding sugar as it is already sweetened)
12 strawberries cleaned and cut into cubes
1/2 cup crumbled ready-to-eat meringues
Stuffing 2 -
Truffled
600g white chocolate (I used lacta)
1 can of sour cream
Other:
whole sighs
whole strawberries
Strawberry syrup (I used homemade jam, sieved)
whipped cream for topping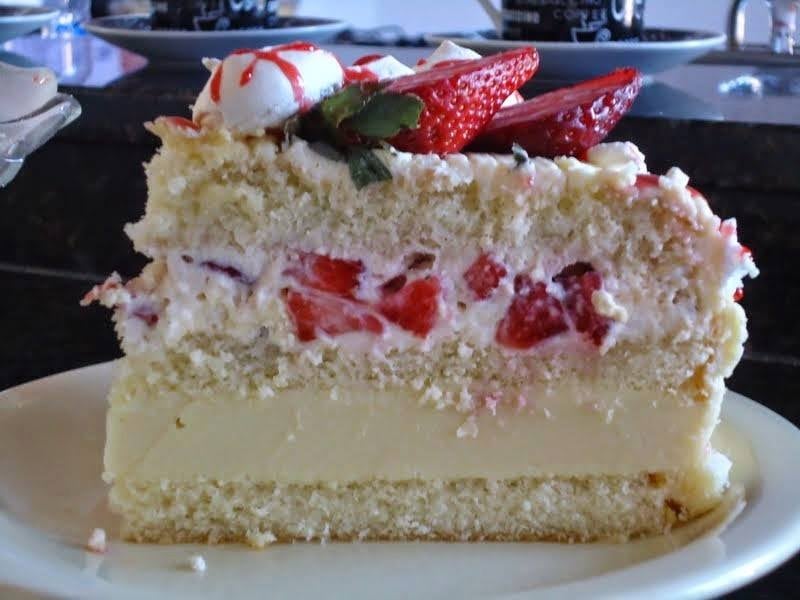 Preparation Method - Dough
Beat the whole eggs and sugar for about 15 minutes. Add the other ingredients and beat lightly, just to mix.
Pour the dough into a greased and floured mold (25 cm) (or use parchment paper), and bake in a preheated oven at 180ºC.
Allow to cool and cut the dough into 3 discs.
Preparation Method - Stuffing 1
Gently mix the whipped cream with the strawberries and meringue.
Preparation Method - Stuffing 2
Melt the chocolate with the cream in a bain-marie, or in the microwave. Mix well and set aside until cool.
Assembly
In the same mold where you baked the cake, place a disc of dough, wet it with plain milk (so that the cake is not too sweet) and pour the filling 1. 
Place another disk of dough, wet it and place the stuffing 2, Cover with the third disk of dough, wet it with milk and take it to the fridge for a few hours to firm up.
Unmold, apply the whipped cream, make grooves with a fork, arrange the meringues and whole strawberries. Water with the strawberry syrup.