Italian Cream Cheese Cake
Ingredients:
1/2 c softened butter
1/2 c shortening
2 c sugar
5 eggs, seperated
1 tsp vanilla extract
2 c all purpose flour
1 c butter milk
1 tsp baking soda
1 1/2 c coconut, flaked
1 c pecans, chopped
Cream cheese frosting
2 pkg 8 ozs cream cheese, soften
1 pkg 3 oz cream cheese, softened
3/4 c butter, softened
6 c confectioners' sugar
1 1/2 tsp vanilla extract
3/4 c pecans, chopped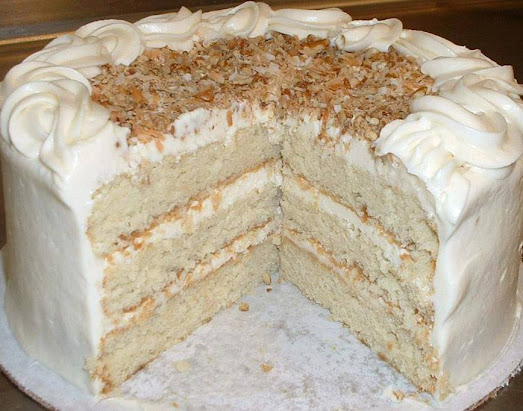 Directions:1-
In a large bowl, cream the butter, shortening and sugar until light and fluffy.
Beat in egg yolks and vanilla
Combine flour and baking soda; add to creamed mixture alternately with buttermilk.
Beat just until combined. Stir in coconut and pecans.
In a small bowl, beat egg whites until stiff peaks form.
Fold a fourth of the egg whites into batter, then fold in remaining whites.
Pour into three greased and floured 9-in. round baking pans. Bake at 350° for 20-25Cool for 10 minutes before removing from pans to wire racks to cool completely.
2-
For cream cheese frostingIn a large bowl, beat cream cheese and butter until smooth. Beat in confectioners' sugar and vanilla until fluffy. Stir in pecans. Spread frosting between layers and over top and sides of cake. Store in the refrigerator.