Brigadeiro cake
Ingredients:
2 cups of sugar (tea)
4 eggs (whites and yolks separated)
3/4 cups oil (tea)
3/4 cups (tea) of chocolate milk
3/4 cups of warm water (tea)
2 cups wheat flour (tea)
1 tablespoon chemical yeast
200 ml cocoa chocolate liqueur
100 ml of water
3 tablespoons of sugar
2 cans of condensed milk
2 tablespoons of margarine
200 grams of chocolate granules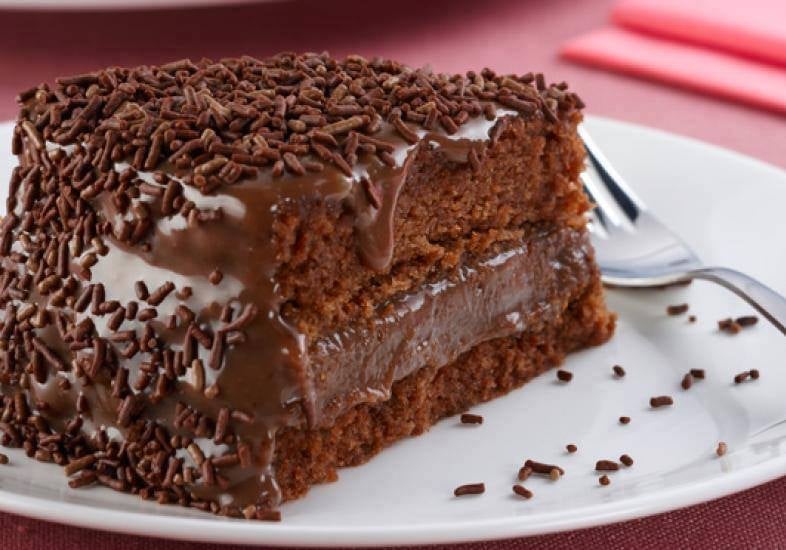 Directions:Dough:
beat 2 cups (tea) of sugar with the egg yolks, then add the oil, 3/4 cup (tea) of chocolate powder dissolved in warm water and, finally, the flour. 
Beat the dough well, remove it from the mixer and add the beaten egg whites. 
Mix gently and add the baking powder. 
Bake in a greased and floured pan in an oven preheated to 180°C.
Syrup:
in a pan, mix the cocoa liquor, water and 3 tablespoons of sugar and bring to a boil. 
Let cool. 
Unmold the cake and divide it in half. Make holes in the cake with a fork and water with the syrup.
Filling and Topping:
in a saucepan, mix the condensed milk, 5 tablespoons of chocolate milk and the margarine and heat until thickened, stirring constantly. 
Make sure it has a soft consistency. Stuff and cover the cake.
Sprinkle the grated chocolate.