Step by step baguette bread
Ingredients:
2 cups of lukewarm water
1 egg white lightly beaten
6 cups of flour without baking powder
1 tablespoon granulated sugar
2 sachets of baking powder
1 1/2 teaspoons of salt
Cornmeal for dusting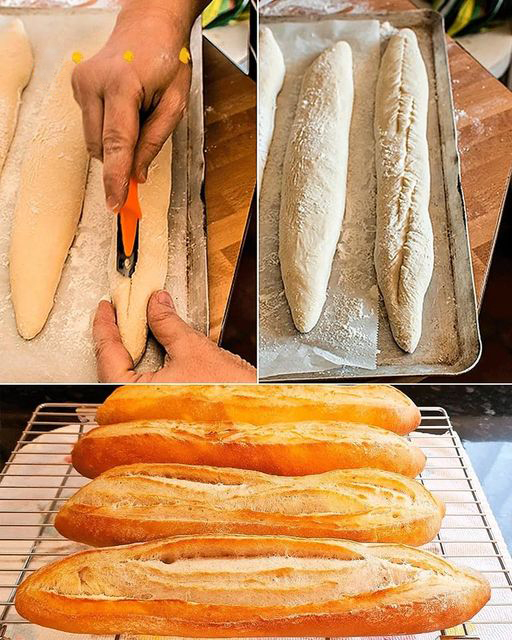 Directions:
1. First, we put together 1/2 cup of water, yeast and a little sugar in a container and mix well. Let it rest for approximately 10 minutes. In a large bowl, mix the rest of the salt, sugar and water.
2. Add the yeast mixture and mix well. Add 2 cups of flour and mix everything, then add the remaining half-cup flour until you get a compact dough that doesn't stick to the edges of the bowl.
3. Now we place the dough on a floured surface and knead for about 5 minutes. If necessary, we add more flour in this process. We must be careful that the dough does not stick to our hands.
4. Shape the dough into a ball and grease a bowl, in which we will let the dough rest for 1 hour at room temperature, until it doubles its volume. Then, we begin to divide the dough into equal parts and begin to form two baguettes, so we give it a rectangular shape and roll it to give it the desired shape.
5. We put a little cornmeal on the tray and let the baguettes rest there for an additional 20 minutes. Meanwhile, we preheat the oven to 190 degrees Celsius or 375 degrees Fahrenheit.
6. We must brush the bread with egg white and we make diagonal cuts in the upper part before taking them to the oven. Bake for about 40 minutes or until golden and crisp to the touch. Let cool and that's it. Enjoy.